Teaching Materials
Others..
こうして教える子どもの英語 (仲田利津子著)
The MAT METHOD resource book written in Japanese by Ritsuko Nakata.



Flag Cards
18 Country Cards and 12 Language Cards

IIEEC Hello English (Cassette & Textbook)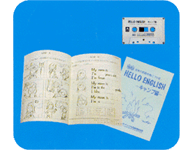 Set in an English summer camp, this book features delightful dialogues between campers that help students practice the most frequently used words and expressions in daily life.
The course also features a series of cheerful chants.
The book can be used for warm-ups, for traveling abroad and homestay preparation, or simply learning every day expressions in a fun way.